How to introduce egg to baby
Eggs are a brilliant first food to introduce to your baby. A single egg packs a powerhouse of nutrients including high levels of protein and a range of vitamins and minerals for growth. If you are starting baby led weaning eggs are great to include in your babies diet and I have included 20 of my favourite recipes to help you on your journey.
They are also one of the few food sources of vitamin D, needed for bone development and contain high levels of choline needed for brain function (1).
Benefit of Eggs
They are also relatively low-cost food and can be prepared quickly. Eggs clearly have a lot to offer and as evidence points towards an increased likelihood of egg allergy if introduced after 6-12 months of age, it's worth knowing how to safely serve egg to your little one from the start of weaning (2).
Introducing egg for the first time and spotting for egg food allergy
Eggs are one of the 9 most common food allergens. Other foods include cow's milk, nuts (including peanuts), seeds, gluten-containing foods, soya, shellfish, and fish. All of these foods are safe to introduce from 6 months old but given one at a time, starting with small amounts to spot for any potential reaction (3).
Try serving a pea-sized amount of well-cooked egg at first and observe for any signs of intolerance:
1. Swelling on the skin
2. Belly pain/ cramps, loose stool
3. Vomiting
4. Eczema flare
5. Cough, difficulty breathing and pale complexion (severe anaphylaxis) (4)
Babies who have eczema, other allergies or a family history of allergies are more likely to develop an egg allergy. An allergic reaction may be mild or severe and babies will often show an aversion to that food.
If your baby is having severe symptoms such as breathing difficulty, seek immediate medical treatment and in all cases, seek guidance from your GP:
Baby led weaning eggs from 6 months
If well tolerated, you can try serving larger amounts of egg regularly in their diet. At 6 months of age, your baby is developing their hand grip. Therefore may should the eggs are cut so they are easy to grasp.
• Well-cooked strips of omelette about the size of your thumb work nicely.
• You can also try serving hard boiled eggs mashed with water, breast milk or formula, avocado or yoghurt (as long as dairy has been safely introduced) or dairy free yoghurt if your baby has a cow's milk protein allergy.
Baby led weaning eggs from 9 months
Your baby is likely becoming an agile eater at this stage and better able to pick up smaller pieces of food and handle it. You can try offering small, bite sized pieces or quartered hard boiled eggs.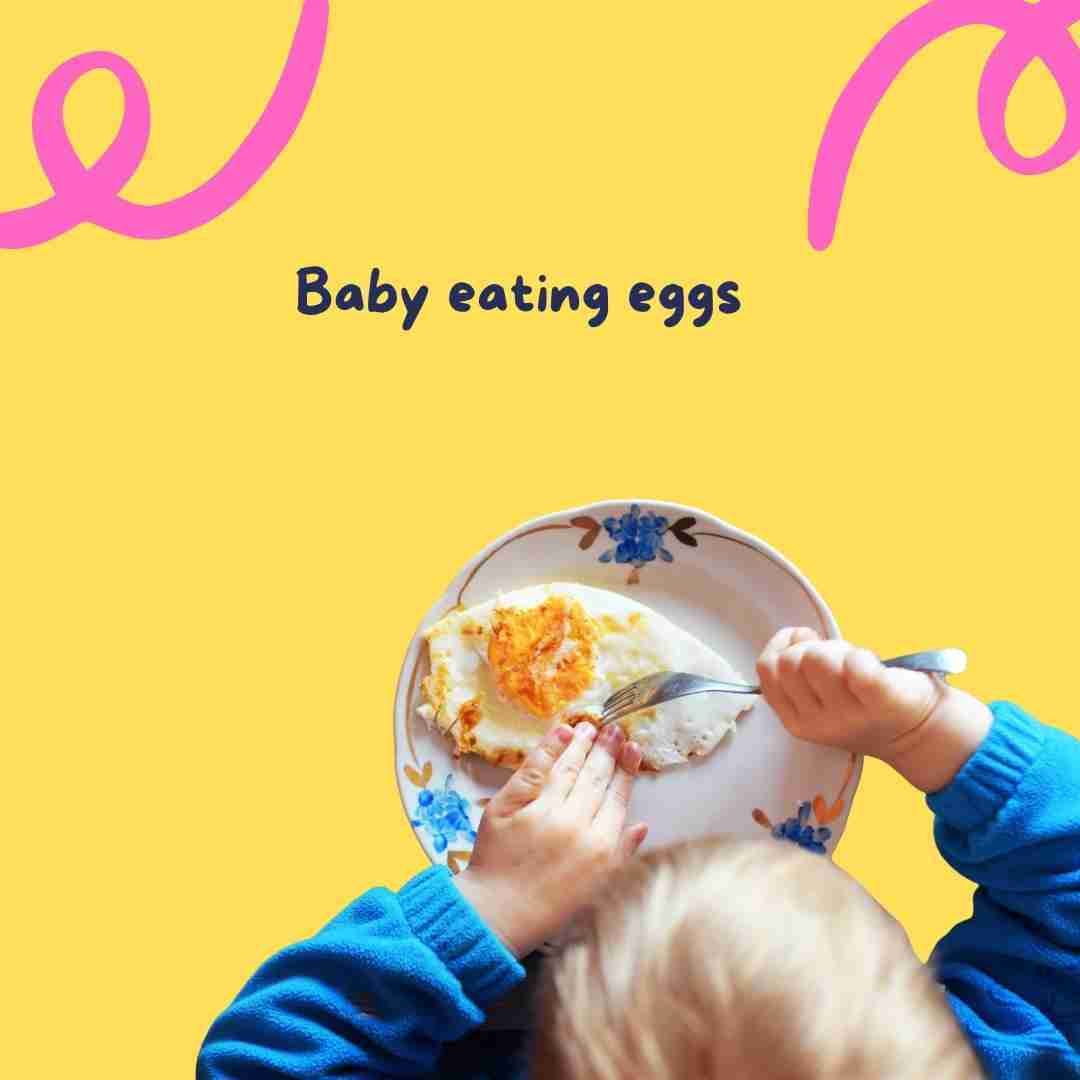 Baby led weaning eggs from 12 months
Babies can begin using a spoon or fork by themselves from around 10-12 months. This will be a skill they learn and like learning to eat with their hands, will be messy at first! (5)
Continue to offer small pieces of egg that they can pick up with their fork. You can even offer a hard boiled egg for them to eat but be sure to have some water or milk at the ready for them to wash it down (6)
Can babies have runny eggs?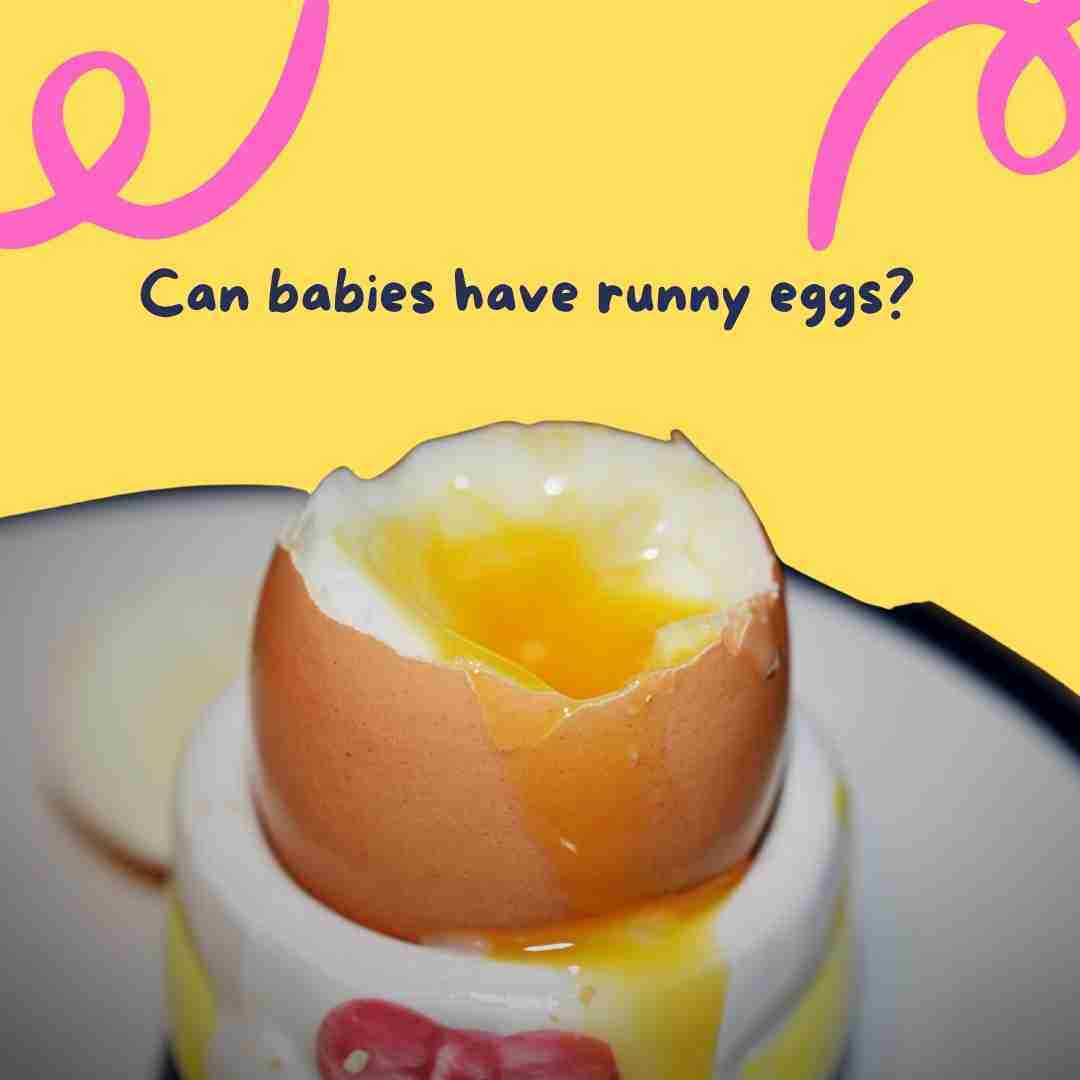 Previously, it has been advised that babies and young children avoid runny eggs as this presents a risk of salmonella. Since the British Lion mark egg safety scheme was introduced, the risk of salmonella has dropped significantly.
The Food Standards Agency confirms that babies can safely eat runny eggs as long as these eggs are red lion stamped (6). Eggs without a lion stamp should never be eaten raw or lightly cooked.
However, as mentioned above, serve well-cooked egg to your baby at first as this is safer than undercooked egg when considering egg allergy. This is because baked/heated egg is better tolerated in 70% of those with egg allergy as heating disrupts proteins that trigger a reaction (7).
20 Baby led weaning egg recipes
Eggs are great to cook with as they are incredibly diverse. They can be served multiple ways to expose your baby to different textures and flavours. Here are some of my favourite baby led weaning egg recipes.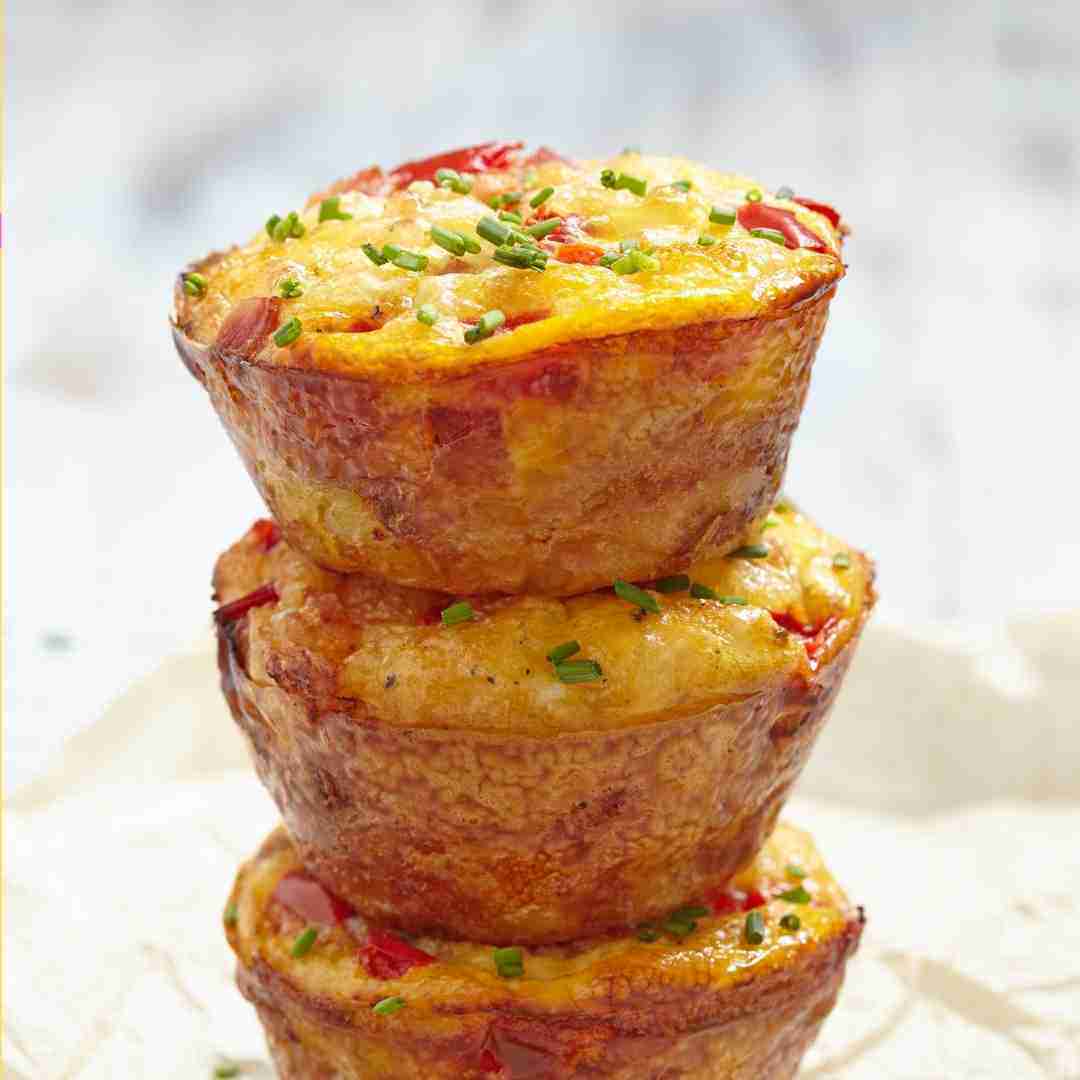 1. Omelette
Heat 1 tbsp of oil in a large pan and fry finely chopped red pepper and a handful of chopped kale until very soft.
Pour 1 medium whisked egg into the same pan heat until the egg is well cooked throughout.
Cut into strips to serve from 6 months (adapted from NHS)
2. Scrambled egg
Whisk 1 small egg and 1 tbsp of whole milk or dairy free milk and cook in a pan with 1 tsp of vegetable.
Stir continuously until cooked through fully.
Serve in a bowl for your baby to scoop with their hands from 6 months (adapted from NHS)
3. Pancakes
Try incorporating eggs into other recipes such as pancakes! This recipe is safe from 6 months and can be rolled into strips and served alongside some plain greek yoghurt
4. Egg Muffins
These are great as finger foods and can be packed full of veggies too. Plus you can freeze them so you can make a big batch. Here is the recipe.
5. Sweet Potato Frittata Fingers
These sweet potato frittatas are great for finger foods for babies but also great for older kids and their lunch boxes
6. Dip chickpea and carrot pancakes
Packed full of iron from the chickpeas and egg this is great option and can you can freeze the pancakes too.
7. Lentil and egg puree
This recipe includes a boiled egg cut into fingers as well and is a great source of iron.
8. Egg and Mushroom cups
This is quick recipe that is suitable from 7-9 months old.
9. Salmon quiche
Crustless quiche is suitable from 6 months and are great for breakfast as a well as snacks.
10. Egg and avocado on toast
This is so quick and easy too do. Plus its full of nutrients. Just mashed up hard boiled egg and avocado and spread it on toast you have already cut into strips. You can just add the avocado and egg to one end to make it easier to hold
11. Egg Roll ups
So super easy and you only need three ingredients. Eggs, milk or dairy free alternative, cheese or dairy free cheese. Cook and roll up so they are easy for your baby to hold.
12. French Toast
French toast is super quick and only has a few ingredients. Plus it is great for babies to grab onto.
13. Egg fried rice
Egg fried rice is not just a takeaway. My little girl loves rice but is not keen on eggs due to her previous egg allergy. This is a great way to get eggs in her. Plus it is quick and easy as a meal for you too.
14. Spinach savoury muffins
Suitable for 6 months are these spinach savoury muffins. Full of iron these are a great option for babies or toddlers.
15. Banana and egg mini muffins
Banana and egg mini muffins are perfect for baby led weaning and nice and soft with only three ingredients
16. Broccoli and cheese frittata fingers
You can use other left over veggies too in this recipe which is great for exposuring your baby to different flavours.
17. Egg, Apple and Rice Cereal
This recipe only has three ingredients and is quick to prepare.
18. Scrambled eggs with veggies
Super scrambled eggs. When you are short of time this is great option and packed full of nutrients.
19. Bread and butter pudding with eggs
I could not resist adding a little puddings in my list. This recipe is baby friendly.
20. Breakfast egg bars
A super quick breakfast option and is just pop in the oven for 15 minutes.
In conclusion, eggs are a fantastic source of nutrients for your baby. But they are also one of the top 9 most common food allergens so need to be introduced carefully. There are many ways to introduce eggs safely but always check that the eggs have the British Lion stamp.
If you like more help with weaning I offer one to one consultations to help ensure your baby thrives.
Thank you to Hannah Eiseman Student Dietitian for helping with researching and writing the blog.