Emma Shafqat Paediatric Dietitian

Giving you the confidence and knowledge to boost your child's health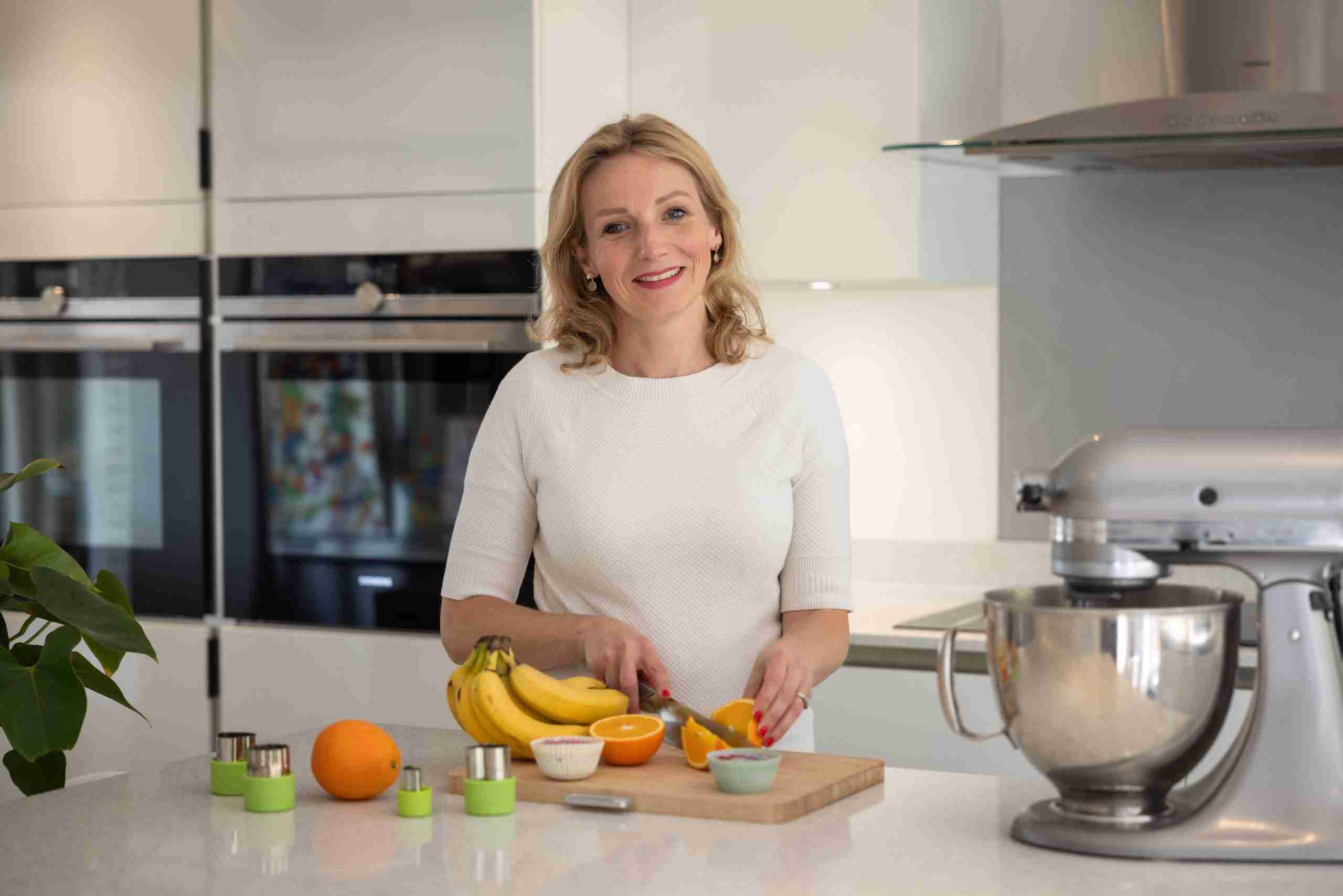 With science backed know-how and actionable steps, I will help you navigate mealtimes when faced with fussy eaters, diagnosed allergies, growth concerns and much more. I work with children from 0 through to 18, and I believe there is no better time than NOW to find out ways to help your child improve their nutritional intake.
Are you worried about what nutrition your child is getting from their food?
Does your child have a food related issue that's starting to cause concern?


Whatever is going on around mealtimes, I am here to help.


 I've the nutritional know-how and the lived experience of both being a 'fussy eater' and raising one, my daughter was diagnosed with both milk and egg allergies which we have had to navigate.


After an initial consultation, I'll be able to give you solid, science-based advice, plus some of my own more fun, kid-centric approaches to get your child trying new foods AND enjoying them!
Support with Childhood Dietary Problems?

From birth to 18 years old
I can provide support for all types of childhood dietary problems:
Fussy Eating 
Problem Eating 
Allergies – milk, soya, egg, wheat 
Weaning
Constipation 
Nutritional deficiencies 
Growth concerns and nutritional support 
Weight support
Blended diets for tube feeding 
If you are ready to really understand your child's eating habits, diagnosed allergies or growth concerns then this is the next step for you.
After an initial consultation, I will be able to give you a clear picture of the nutrition your child is getting and where there could be improvements.


You'll get science-based advice and support for all of your nutrition, weaning and constipation concerns, plus so much more.
"I had a consultation with Emma recently, she is amazing. Very friendly and personable as well as being very thorough and knowledgeable. She sent through the report quickly following the consultation and that too was extremely through and detailed. "

Rachel - Mum of 4 year old
I am a qualified paediatric dietitian, specialising in childhood nutrition for babies, toddlers and older children. For more than 8 years I have worked in the NHS with families looking for support and guidance when it comes to their child's dietary problems. 
Now I offer my services privately, on a one-to-one basis and in the form of courses, so that you can get the information and advice you need to start making a difference to mealtimes. 
The challenges of coping with allergies, fussy eating and identifying any nutritional deficit in your child's diet can be huge. And after having gone through all of this myself I want to help you reach a place of calm where family mealtimes are enjoyable and great memories can be made.
I want to empower parents and children to overcome a wide range of dietary health issues, and I want them to be able to do with the right knowledge and science backed advice that means they are making the right decisions going forward.
The advice I provide is practical, simple, and fun. Your child will develop the balanced diet they need to thrive, and you'll get your peace of mind back.
"Emma has given us a number of great strategies to help with Freya's eating. Making mealtimes fun has been a great success so far … we are so grateful that a few simple and easy to implement changes are having such a positive impact on her general well being."

Api, Mum of 7 year old fussy eater
Cow's Milk Allergy Course
A self-led course that provides expert advice on cow's milk allergy diagnosis, management and the challenges all this can bring. Taking you step-by-step along the journey of navigating your child's milk allergy, so you can stop googling for tips on milk-free weaning!


Alongside advice on handling a milk allergy, I will give you info on the best dairy-free products on the market, that provide all the calcium your baby needs, recipes using milk alternatives and a step-by-step milk ladder to guide you through reintroduction when you're ready.
"Emma has been excellent since we had our first appointment when our little boy was around 5 months old. He is now 19 months old and doing really well. He is such a good eater and is on his way with the milk and egg ladders. Emma's advice and support has been invaluable . . would highly recommend!" Nicola Higson
I want to help you see that there IS light at the end of the tunnel
I know how lonely it can feel when you're concerned about the nutrition your child is getting from their diet. 
But I want you to know you are not alone, I have been where you are, and I've helped countless others find a way to improve their situation. By giving you the knowledge and actionable steps to take, and by including your child in the process, they will feel confident and in control of their own mealtimes, meaning the learning they are doing will stick and they will be far more on board with the changes being made.
Allergies in youngsters can often be from foods that would otherwise be integral to a wide and varied diet. And when it comes to 'selective eating', after investigation we can often find there is a greater reason for a child's aversion to food.
Working together we can give your child the confidence to try new foods, and give you new ways of presenting food, that will ensure a wide a varied diet, delivering all the nutrition they need to grow strong.
You'll find a new joy in mealtimes through the games and activities we'll introduce, and you'll start to make fantastic dinner table memories as a family.
FREE Iron Rich Snack Guide
Boost your child's iron intake with these irresistible snacks for picky eaters. It includes recipes too.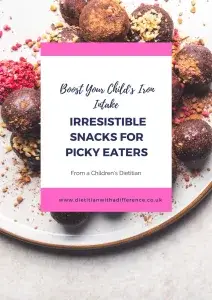 Confident Eater Programme
Kids may be small but they are mighty!
Never has this been more true than when a child is being cajoled into trying something they really don't want to.
If you've got a fussy eater on your hands you'll know exactly what I mean!
Wouldn't you love to be able to work with your child, to help the discover of food?
Let me help. I have years of experience, working with children with all kinds of food aversions. With my Confident Eater Programme, we'll identify exactly what nutrition your child is currently getting from their food and see where there may be some gaps. Then we'll focus on giving your child the confidence to try new foods regularly.
You'll receive ongoing one-to-one support, a full nutritional report, activity suggestions and so much more.
"Emma is such a safe supportive person. I reached out to Emma as I was desperate for some help and support for my 3 year old. Firstly Emma made me feel so reassured by making everything I was experiencing feel 'normal' in her world (very strange and worrying in mine!).

She has giving me constant support over the last 9 months and I know I will keep her for her advice support and reassurance as I have a very sensory eater and always appreciate her help.

Emma you are so brilliant and I am so grateful I found you at my time of need!!"

Katie Cappella
Online Dietary Assessment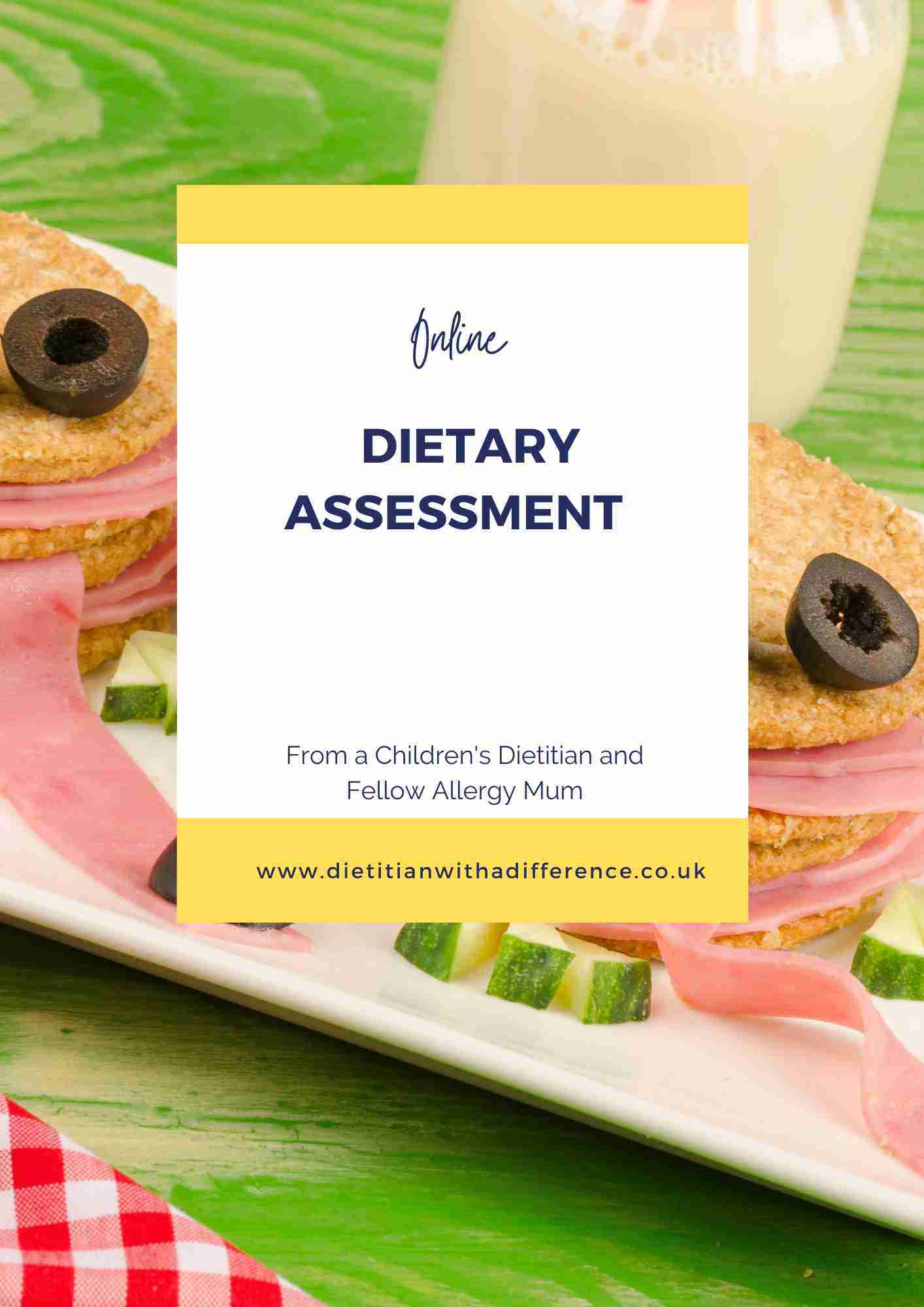 Concerned that your child isn't getting the right amount of nutrition they need to grow and thrive?
Maybe you're worried about the lack of iron or calcium in their diet?
Or is it that they could be missing out on valuable vitamin C or zinc to fight those winter bugs?


My online dietary assessment is available at any time. You simply sign up to complete your child's food log over three days, I'll then provide a detailed report telling you exactly what nutrition they are receiving and identifying where there may be gaps.
Looking for more education on the subject of childhood nutrition?
In addition to working one-to-one with clients, I also offer training within schools and nurseries.
Depending on the requirement of the institution my trainings can cover fussy eating advice, confidence when dealing with childhood food allergies, healthy eating advice , meal planning help and much more.

I've collaborated on courses, spoken on podcasts and delivered group training sessions, so whatever you are looking for, I am able to help.
Whatever your concern regarding your child's eating habits and dietary problems, book in now for a free discovery call today.

I'll get to know you, your child, and your unique situation. I'll be able to tell you all about the ways I can help you and your family get back to enjoyable mealtimes.